Maialen Lujanbio
Personal details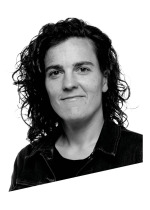 Name

Lujanbio, Maialen

Complet name and surname

Lujanbio Zugasti, Maialen

Birth

1976

Hernani +

Hernani < Buruntzaldea < Gipuzkoa < Basque Country
Bertsolarism
Main specialization

Hutsik

Specializations
Biographical details
Biography

Bertsolari. Licensed in Fine Arts in the UPV. Organizer, presenter, photographer, poster-artist, . she has tasted so many jobs concerning bertsolarism. She has also been the teacher of some schools of bertsolaris (in the Kafe Antzokia of Bilbao and in the school of bertsolaris of Hernani). The environment was not really related to bertsolarism in her home, in spite of having listened to his father any that another ancient bertsos. It was in the ikastola (Basque school) where with some other friends she started approaching to the bertsolarism and for what later she would decide to start in the school of bertsolaris of her village. She has won an endless number of championships, for what it is a bertsolari with a lot of experience. She has taken part in last the last two championships of the Basque Country: in 1997 she managed to come to the final and in 2001 she remained second after Andoni Egaña. Though she has not written any book, her bertsos have been used to complete loads of them. Likewise, she has done letters for groups such as Maixa eta Ixiar, Alaitz eta Maider, Anje Duhalde, Mikel Errazkin, Mikel Markez and Oskorri.
First steps in bertsolarism
hait_txt_lehen_plaza

Hutsik
Championships, extempore verse and written verse competitions
Eguneratutako informazioa "Txapelketak" pestainan aurkituko duzu.
Extempore verse competitions

Hernaniko Txapelketa 1996: finalista
Lizardi saria 1991: finalista
Lizardi saria 1992: 2. eta bertso onenaren saria
Lizardi saria 1993: 2.
Osinalde saria 1992: 1. eta bertso onenaren saria
Xenpelar saria 1990: finalista
Xenpelar saria 1991: finalista eta bertso onenaren saria

Wrote verse competitions

Gipuzkoako Eskolarteko Txapelketa bertso idatziak 1991: 1. saria.15-18 urte artekoen mailan.

Azken urteetako sariketa eta lehiaketen berri dagokien pestainetan aurkituko duzu.
Publications
hait_txt_liburuak

Hutsik

hait_txt_grabazioak

Hutsik

hait_txt_ekoizpen_oharrak

Hutsik