Beñat Gaztelumendi
Personal details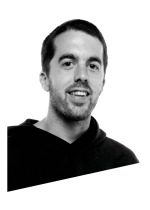 Name

Gaztelumendi, Beñat

Complet name and surname

Gaztelumendi Arandia, Beñat

Birth

1987

Añorga +

Añorga < Donostia < Donostialdea < Gipuzkoa < Basque Country
Bertsolarism
Main specialization

Bertsolaria

Specializations
Biographical details
Biography

He is from Añorga neighbourhood in Donostia. After finishing his studies at Santo Tomas high school, he continued studying at the university in Leioa where he carried out his Bachelor's Degree in Audiovisual Communication, a field in which he has done several works later.
Big fan of bertsolaritza since he was a child, he has been part of many bertso-eskolas (bertsolaritza workshops) such as the one in Igeldo, Hernani and Santutxu. He has won many prizes in interschool championships and competitions. He has been member of the team that presides the association of bertsolaris Euskal Herriko Bertsozale Elkartea since 2018.
He has been finalist of the National Bertsolaris Championship in 2013 and 2017. He won the championship in Gipuzkoa in 2015 and he was runner up in the two previous ones, 2007 and 2011.
First steps in bertsolarism
Lehen plaza

Donostiako Igeldo auzoan, bertso antzerki batean, Igeldoko bertso eskolakoekin.
Championships, extempore verse and written verse competitions
Eguneratutako informazioa "Txapelketak" pestainan aurkituko duzu.
Extempore verse competitions

Abra Saria 2006: 1.
Erniarraitz Saria 2006: 2.
Hernandorena Saria 2006: 1.
Lizardi Saria 2005: finalista
Osinalde 2006: finalista
Osinalde 2007: finalista
Xenpelar saria 2006: finalista
Lizardi Saria 2007; 1
Plazatik Gaztetxera sariketa 2006 : 2.
Plazatik Gaztetxera sariketa 2007: Finalista

Azken urteetako sariketa eta lehiaketen berri dagokien pestainetan aurkituko duzu.