Jokin Uranga
Personal details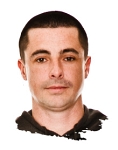 Name

Uranga, Jokin

Complet name and surname

Uranga Isuskiza, Jokin

Birth

1980

Azpeitia +

Azpeitia < Urola Kosta < Gipuzkoa < Basque Country
Bertsolarism
Main specialization

Bertsolaria

Specializations
Biographical details
Biography

First time at the National Championships for this 25-year-old from Azpeitia in Giuzkoa. He won the Lizardi prize in 2000 and works teaching bertsolaritza.
First steps in bertsolarism
Lehen plaza

Beasainen, 1994an, Eskolarteko Txapelketan
Publications
Ekoizpen oharrak

Fredi Paia eta Xabier Silveirarekin batera "Zaharrak berri xou" emanaldia prestatu eta plazaratu du 2004a ezkero.