Miren Artetxe
Personal details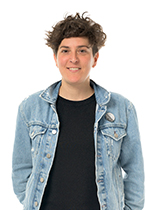 Name

Artetxe, Miren

Complet name and surname

Artetxe Sarasola, Miren

Birth

1985

Hendaia +

Hendaia < Lapurdi Itsasegia < Lapurdi < Basque Country
Bertsolarism
Main specialization

Bertsolaria

Specializations

Bertso irakaslea

Researcher
Biographical details
Biography

She studied Basque Philology in Gasteiz and afterwards she continued her studies in Barcelona. She has worked as a teacher in the bertso-eskola (bertsolaritza workshops); at the Euskal Etxea in Barcelona for instance. She has researched on bertsolaritza and nowadays she works as professor at the Public University of the Basque Country. Since 2018, she is part of the team that chairs the association Euskal Herriko Bertsozale Elkartea.
She became fond of bertsolaritza thanks to his father and grandfather, and the influence of the TV programme Hitzetik Hortzera. Ernest Alkhat introduced her to bertsolaritza and later, she followed her training with Jexux Arzallus at school in Hendaia and with Karlos Aizpurua in Oiartzun.
She got a place in the final of Xilaba, the championship carried out in Xiberoa, Lapurdi and Baxenabarre, in 2010 and 2016, and in the final of the championship in Nafarroa as well, in 2003. She took part in the National Bertsolaris Championship in 2005, 2009 and 2017.