Sebastian Lizaso
Personal details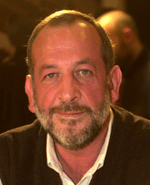 Name

Lizaso, Sebastian

Complet name and surname

Lizaso Iraola, Sebastian

Birth

1958

Azpeitia +

Azpeitia < Urola Kosta < Gipuzkoa < Basque Country
Bertsolarism
Main specialization

Bertsolaria

Specializations

Jarduerei buruzko azalpenak

Gai-jartzaile lanak batik bat, Azpeitiko saioetan egin ditu.
Biographical details
Biography

Born in 1958 in the Gipuzkoan town of Azpeitia. He was a finalist in the 1982 championship, champion in 1986 and runner-up champion in 1989 and 1997. Son of the bertsolari Joxe Lizaso, he followed in his father's footsteps in the setting of his family tavern in the district of the town known as Landeta. As such and unlike his contemporaries, he is a self-taught artist. He did not participate with them in youth contests and championships but when, at the age of 24, he became the 1982 finalist, he had already acquired a fame and had considerable experience, through his performances in town squares and village halls throughout the country. He repeated his victory the following year. Sebastian Lizaso, apart from being one of the great figures of bertsolarismo, has known how to adapt to singing with the youngest of the new generations of bertsolaris: no doubt the reason why he is the most known bertsolari in these public arenas. An employee in the motor trade for many years, he now works for the advertising department of Euskaldunon Egunkaria (the Basque language daily newspaper). Married with two children, the first of which is taking the first steps along the road to being a bertsolari.

First steps in bertsolarism