Iñigo Mantzizidor "Mantxi"
Personal details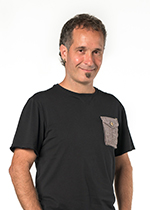 Name

Mantzizidor, Iñigo "Mantxi"

Complet name and surname

Manzisidor Larrañaga, Iñigo

Birth

1977

Zarautz +

Zarautz < Urola Kosta < Gipuzkoa < Basque Country
Bertsolarism
Main specialization

Bertsolaria

Specializations

Bertso irakaslea

Bertso-jartzailea
Biographical details
Biography

This bertsolari from Zarautz will be 28 on the eve of the Finals. He works as a plasterer. He was the winner at the 1999 Gipuzkoa inter-towns Championship and won the Lizardi prize in 1996 and 1998.
First steps in bertsolarism
Lehen plaza

Zarautzen, 1992-09-05ean, Lizardi sarian