Xumai Murua
Personal details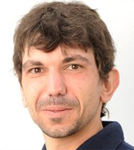 Name

Murua, Xumai

Complet name and surname

Murua Berra, Xumai

Birth

1985

Urruña +

Urruña < Lapurdi Itsasegia < Lapurdi < Basque Country
Bertsolarism
Main specialization

Bertsolaria

Specializations

Bertso irakaslea

Gai-jartzailea
Biographical details
Biography

Teacher by profession, he chairs the association Bertsularien Lagunak that promotes bertsolaritza in Lapurdi, Baxenabarre and Zuberoa, as well as being a board member of Bertsozale Elkartea.
Thanks to the influence of his father, like his siblings, he has known bertsolaritza since he was very young. He began at the bertso-eskola (bertsolaritza workshops) of Hendaia with the bertsolari Jexux Arzallus, and subsequently he participated in various competitions.
He has been a finalist of Xilaba, the championship held in Lapurdi, Baxenabarre and Zuberoa in the editions of 2010, 2012, 2014 and 2016.

First steps in bertsolarism
Lehen plaza

Hendaian, 8-9 urte zituela San Juan suari kantatu zioten bertso-eskolakoek ikasitako bertsoa.