Inaxio Usarralde
Personal details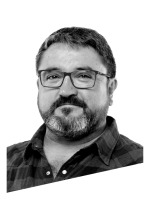 Name

Usarralde, Inaxio

Complet name and surname

Usarralde Arantzadi, Inazio

Birth

1967

Aginaga (Usurbil) +

Aginaga (Usurbil) < Usurbil < Buruntzaldea < Gipuzkoa < Basque Country
Bertsolarism
Main specialization

Gai-jartzailea

Specializations

Organizer

Presenter

Bertso-eskola sortzailea

Bertso-eskolako eragilea

Bertso irakaslea

Bertso-irratsaiogilea

Bertso-jartzailea

Eragilea
Biographical details
Biography

38 and from Usurbil but currently lives in Lazkao, also in Gipuzkoa. He has a degree in Basque language. He has a long experience as a theme-setter. His great challenge is how to appropriately pass on the accumulated experience over many years as a member of theme-setting teams.


First steps in bertsolarism
Lehen plaza

Usurbilgo Bota Punttubaren hastapenetan, herriko bertsolariekin antolatu zuten jaialdian. Gaiak taldean jarri eta Inaxio izan zen aurkezle.