Amaia Agirre
Personal details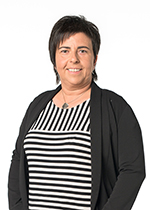 Name

Agirre, Amaia

Complet name and surname

Agirre Arrastoa, Amaia

Birth

1977

Amasa-Villabona +

Amasa-Villabona < Tolosaldea < Gipuzkoa < Basque Country
Bertsolarism
Main specialization

Bertsolaria

Specializations

Bertso irakaslea

Bertso-jartzailea

Gai-jartzailea
Biographical details
Biography

A 28-year-old from Billabona in Gipuzkoa with a degree in Basque. She was finalist in the last Gipuzkoa Championships. She was a teacher in a number of bertso schools over the years. She is coming well prepared with great hopes and motivation. The change of venue for the final of the Championships, she believes, will throw up a new champion. This is her second time at the National Championships.
First steps in bertsolarism
Lehen plaza

Villabonan, 1990ean, Gipuzkoako Eskolarteko Txapelketan taldekide izan zituenekin. Buruz ikasitako bertsoak, bat-batekoak balira bezala kantatuz.