Andoni Egaña
Personal details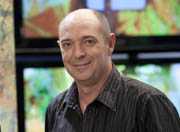 Name

Egaña, Andoni

Complet name and surname

Egaña Makazaga, Andoni

Birth

1961

Zarautz +

Zarautz < Urola Kosta < Gipuzkoa < Basque Country
Bertsolarism
Main specialization

Bertsolaria

Specializations
Biographical details
Biography

He has been the most notorious representative of bertsolaritza since the late 80s and especially in the 90s.
Holder of a Bachelor's Degree in Basque Philology. He lives devoted to artistic creation and apart from bertsolaritza, he has stood out as a researcher, theorist, writer and columnist. It is worth mentioning his contribution to explain and socialize the process of creating the bertso. He has taken part in many experimental projects to combine the bertso with other artistic expressions.
He has been champion of the National Bertsolaris Championship four times in a row (1993, 1997, 2001, 2005) and he has been finalist in all the editions in which he has participated, from 1986 to 2009; he bid farewell to the competition in this last edition. In 1991, he was runner-up in Gipuzkoa, and in 1999, together with the team of his town Zarautz, he won the championship among towns organized in Gipuzkoa.
First steps in bertsolarism
Lehen plaza

Itziarren, 1981eko irailean, Salegi jatetxean, ezkontza batean.
Publications
Argitaratutako liburuak

Aitaren batean, Elkar, 1990 (El Diario Vasco argitartutako artikulu bilduma)
Bat bateko bertsolaritza , Bertsozale elkartea 2002 (Jon Sarasua eta Joserra Garziarekin batera)
Hogeita bina. Hariadna, 2004.
Imanol Urbieta: luzea da bidea. Ibaizabal, 2002
Niri ez zait futbola gustatzen, eta zer?. Elkar, 2004.
Pausoa noiz luzatu, Elkargintza Fundazioa / Alberdania, 1999 (eleberria)
Sokratikoek ere badute ama, Erein, 1989 (ipui bilduma)
Zaudete geldi piska batean, Elkar, 2000
Zozoak beleari. Alberdania, 1997 (Jon Sarasuak eta biak egindako saiakera bertsolaritzaz)

Argitaratutako grabazioak

Tximeletak sabelean, IZ, 1994 (bertso musikatuak)

Argitaratugabeak eta azterlanak

EHBE-JAKIN. Bertsolariei inkesta, Euskal Herriko Bertsolari Elkartea, 1987

Ekoizpen oharrak

Amurizaren eraginetik abiatuta, bertsolaritzari maila gorena eman dion bertsolaria. Ez dira asko izango Andoni Egaña izan den bertsolari onena dela ukatzen dutenak. Plazaz plaza erritmo harrigarrian jarduteaz gain, bertsolaritza eta ahozkotasunaren gaineko ekarpen teoriko interesgarriak ere eginak ditu.