Arkaitz Estiballes
Personal details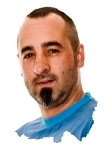 Name

Estiballes, Arkaitz

Complet name and surname

Estiballes Ormaetxea, Arkaitz

Birth

1977

Galdakao +

Galdakao < Bilboaldea < Bizkaia < Basque Country
Bertsolarism
Specializations

Bertso irakaslea

Bertso-jartzailea

Bertsolaria

Eragilea

Jarduerei buruzko azalpenak

Bertso-eskolako irakaslea
Bertso-jartzailea
Bertsolaria
Eragilea
Biographical details
Biography

This 28-year-old from Galdakao lives in Bilbo and is his second time at the National Championships. works teaching bertsolaritza. He came third in last year's Bizkaia Championships. He sees participating in the BEC finals as a really good challenge, both maintaining the traditional bertso-lovers and taking on board new ones.
First steps in bertsolarism
Lehen plaza

Ikastolarekin, 12-13 urterekin egindako irteera bat beste ikastetxe batera.

Publications
Argitaratutako liburuak

Bertsoak: Saritutako bertso batzuk, antolatzaileek publikatuta
Gordexolako ipuin lehiaketa
Poesia: Euskaltzaindia (RM Azkuen, poema bat publikatuta)
Prosa: Urruzuno: 4 ipuin publikatuak

Argitaratutako grabazioak

MIKEL URDANGARIN: Badira hiru aste, "Lekandapean" kantuko hitzak