Asier Ibaibarriaga
Personal details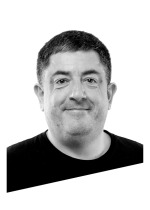 Name

Ibaibarriaga, Asier

Complet name and surname

Ibaibarriaga Apoitia, Asier

Birth

1973

Gernika-Lumo +

Gernika-Lumo < Busturialdea < Bizkaia < Basque Country
Bertsolarism
Main specialization

Epailea

Specializations

Organizer

Eragilea

Gai-jartzailea

Jarduerei buruzko azalpenak

1996an-edo hasita, Ermuko festetako gazteen saioan (uztaila)
Biographical details
Biography

Electronic engineer, he is director of the company Zermik. Nowadays, he chairs the association Bizkaiko Bertsozale Elkartea and he is a board member of Bertsozale Elkartea as well.
He was part of the team responsible for the preparation of topics for National Bertsolaris Championship in the editions of 2001 and 2005, and then he focused on training jury members of the championships.
First steps in bertsolarism
Lehen plaza

1983 inguruan, Ikastolan (prestatutako bertsoak)
aurkezle eta antolatzaile gisa 1996, Ermuko gazteen saioan

Publications
Beste argitalpenak

"Xake Zakurtzarrari" Umeentzako CD xake jokoa.Ikastolen Elkartearentzat argitaratua 2002an.