Unai Iturriaga
Personal details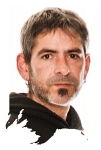 Name

Iturriaga, Unai

Complet name and surname

Iturriaga Zugaza-Artaza, Unai

Birth

1974

Durango +

Durango < Durangaldea < Bizkaia < Basque Country
Bertsolarism
Main specialization

Bertsolaria

Specializations

Bertso irakaslea

Eragilea
Biographical details
Biography

Holder of a Bachelor's Degree in Fine Arts, he has experience in other kind of arts beyond bertsolaritza: scriptwriter, draftsman, member of the music group Gu ta Gutarrak…
He approached bertsolaritza when he was 13 thanks to the bertsolari Jon Lopategi and at the same time, he started attending the bertso-eskola (bertsolaritza workshops) of Durangaldea directed by Santi Belar "Begi". He won several interschool championships, both in Bizkaia and Euskal Herria.
He reached the final of the National Bertsolaris Championship in 1993 and in all those in which he participated later, from 1997 to 2013. He bid farewell to the competition in this last edition. In addition, he won the championship in Bizkaia in 1994 and 1996 (which was from Araba and Bizkaia at that time). In fact, he has participated in all the championships in Bizkaia from 1990 to 2004, and has been runner-up in most of them.
First steps in bertsolarism
Lehen plaza

Izurtzan, 13 urte zituenean, frontoian, Durangoko bertso eskolako kideekin.

Other works
Bertso jarri ezagunenak

Zazpi eskale emankizunekoak