Saroi Jauregi
Personal details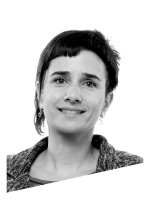 Name

Jauregi, Saroi

Complet name and surname

Jauregi Aiestaran, Saroi

Birth

1978

Zaldibia +

Zaldibia < Goierri < Gipuzkoa < Basque Country
Bertsolarism
Main specialization

Gai-jartzailea

Specializations
Biographical details
Biography

Holder of a Bachelor's Degree in Basque Philology, she works in Elhuyar. She currently chairs the association Gipuzkoako Bertsozale Elkartea as well as being a board member of Bertsozale Elkartea.
She began her career as presenter of themes in the intercities championship of Gipuzkoa in 1999 and she has taken part in many performances since then, such as the championship in Gipuzkoa and the National Bertsolaris Championship. From 2005 to 2009, she was also TV host in the programme Hitzetik Hortzera.

First steps in bertsolarism
Lehen plaza

Zaldibian, 1992an, Zubi-buru elkartean, "Bertsolaritzaren sena. Gazteok ahal dugu" bost saioetako bat, gai-jartzaile Olatz Imaz eta Ainara Nazabalekin batera. Bertsolariak: Aritz Lopategi, Aitor Lasarte, Jon Mikel Omagogeaskoa, Jose Luis Urdangarin, Jon Aiestaran, Juan Ramon Gerriko eta Jon Iñaki Izarzelaia. Antolatzaileak: Altzo-Txiki tartean zen.
Herritik kanpo lehen saioa: Beasainen, 1999an Gipuzkoako Herri Arteko Bertsolari Txapelketan.