Maialen Lujanbio
Personal details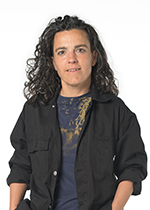 Name

Lujanbio, Maialen

Complet name and surname

Lujanbio Zugasti, Maialen

Birth

1976

Hernani +

Hernani < Buruntzaldea < Gipuzkoa < Basque Country
Bertsolarism
Main specialization

Bertsolaria

Specializations
Biographical details
Biography

In spite of being well-known for her work as bertsolari, she has also been involved in other artistic projects, usually related to the language. She is holder of a Bachelor's Degree in Fine Arts. Since 2018, she has been member of the team that presides the association of bertsolaris Euskal Herriko Bertsozale Elkartea.
She took up bertsolaritza in the bertso-eskola (bertsolaritza workshops) at school, and by the age of 15, she was already singing in public.
She is the current national champion of bertsolaritza, after obtaining the txapela (the beret which represents the victory) in 2017 as well as in 2009, and runner-up in 2001 and 2013. Besides, she was also proclaimed champion of Gipuzkoa in 2003.

First steps in bertsolarism
Lehen plaza

Hondarribian, Gipuzkoako Eskolarteko Txapelketan
Lehen plaza "serioa": Hondarribiako kofradian, Martxoak 8-aren aitzakian,1992-03-08an.