Manuel Olano
Personal details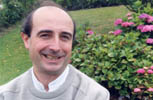 Name

Olano, Manuel

Complet name and surname

Olano Jauregi, Manuel

Birth

1955

Altzo +

Altzo < Tolosaldea < Gipuzkoa < Basque Country
Bertsolarism
Main specialization

Gai-jartzailea

Specializations

Jarduerei buruzko azalpenak

Aurkezlea eta gai-jartzailea: Altzo, herriko jaietako urteroko jaialdian (1983-...)
Epailea: Lazkao-Txiki bertso-paper lehiaketa, Argi Berri saria
Gai-jartzailea: 1989tik aurrera egin diren Txapelketa Nagusietan, baita Gipuzkoako sailkapen eta txapelketetan ere.
Biographical details
Biography

Born in Altzo, Gipuzkoa. 45 years old. He works as a teacher. He began as a theme-presenter in 1991 in the Gipuzkoan Championships and since then he has taken part at all levels at both the Gipuzkoa and all Euskal Herria championships.

First steps in bertsolarism
Lehen plaza

Altzo, 1983 (aurkezle)