Fredi Paia
Personal details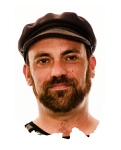 Name

Paia, Fredi

Complet name and surname

Paia Ruiz, Alfredo

Birth

1981

Algorta +

Algorta < Getxo < Uribe-Kosta < Bizkaia < Basque Country
Bertsolarism
Main specialization

Bertsolaria

Specializations

Bertso irakaslea

Eragilea
Biographical details
Biography

This is also the second time at the National Championships for this 24-year-old from Algorta in Bizkaia. He studied music but is currently a business science student. He managed to get to be amongst the finalists in the last three years' Bizkaia Championships. Although judging oneself at these contests can be harsh, he is going for this year's prize.
First steps in bertsolarism
Lehen plaza

Getxon, 1992 inguruan, Gobeloki institutuan kantulagun Igor Elortza, Beñat Gaztelurrutia eta Iñigo Gojenola zituela, eta gai-emaile Joseba Santxo.

Publications
Argitaratutako liburuak

Urruzuno literatur sariketako liburutan, antolatzaileek argitaratuta