Xabi Paya
Personal details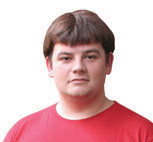 Name

Paya, Xabi

Complet name and surname

Paya Ruiz, Xabier

Birth

1982

Bilbo +

Bilbo < Bilboaldea < Bizkaia < Basque Country
Bertsolarism
Specializations

Bertso irakaslea

Bertsolaria

Epailea

Gai-jartzailea

Researcher
Biographical details
Biography

Algorta in Bizkaia. 22 years. Works as a translator and interpreter. First time at the National Championships. He started singing free Basque verse as an excuse to improve his mastery of the language and is currently learning other languages likewise.
First steps in bertsolarism
Lehen plaza

Senperen, Herri Urrats batean. Jon Lopategik bidali zuen, Bizkaitik bertsolari gazte bat behar zutelako. Bertsokide Jon Martin, Miren Artetxe eta Erika Lagoma izan zituen. Anekdota polit bat bada egun horretakoa: Ernest Alkatek, bere aurkezpena egin zuenean, Xabier Paya esan beharrean, Xabier "Paella" esan zuen!