Aitor Sarriegi
Personal details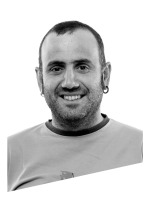 Name

Sarriegi, Aitor

Complet name and surname

Sarriegi Galparsoro, Aitor

Birth

1976

Beasain +

Beasain < Goierri < Gipuzkoa < Basque Country
Bertsolarism
Main specialization

Bertsolaria

Specializations

Bertso-jartzailea

Eragilea
Biographical details
Biography

He is IT engineer and he works as a teacher and ICT responsible at the school in Zumarraga-Urretxu.
He won a place in the final of the National Bertsolaris Championships in 2009, 2013 and 2017; he announced he was taking retirement from championships in 2017. He was champion of Gipuzkoa in 2011 and finalist in 2007.
First steps in bertsolarism
Lehen plaza

(Bapateko lehen bertsoa) Segura, 1989an. Segurako eskolara joan ziren Mikel Mendizabalekin, askotan bezala, prestatutako bertsoak kantatzera. Mikelek ordea, lehenik Xabier Narbarteri eta gero Aitorri jendeari eskatutako lau oinekin bertsoa botatzeko agindu zien.
Oinak: artzaia
mahaia
gaztaia
kanpaia

Mendira joaten da
goizero artzaia
tabertan egiten du
gustora gaztaia
gero bazkaldutzeko
prestatuaz mahaia
elizara joaten da
entzunez kanpaia.

Eta horixe izan zen. Hurrengo saioa urte berean zen, Idiazabalgo eskolan, eta saio osoa bat-batean izan zen. Aipatu bertsoa bota aurretik sekula bat-batean kantatu gabea zen, ezta saiatua ere.