Amets Arzallus
Personal details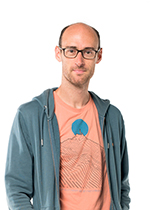 Name

Arzallus, Amets

Complet name and surname

Arzallus Antia, Amets

Birth

1983

Hendaia +

Hendaia < Lapurdi Itsasegia < Lapurdi < Basque Country
Bertsolarism
Main specialization

Bertsolaria

Specializations

Jarduerei buruzko azalpenak

Kazetaria: Egunkaria, Ekaitza, Gaztetxulo, Euskadi Irratia, Berria, Xirika, Argia...
Biographical details
Biography

Although he does not live there, he never strays too far from his native Hendaya. He studied at the ikastolas of Seaska (Federation of the schools in Basque) and then he landed in Leioa to study journalism. He devotes himself mostly to bertsolaritza, although from time to time he carries out journalistic works.
As he is son of the bertsolari Jexux Arzallus, he was born in an environment plenty of bertsos and as a result, he began to sing when he was still very young.
He won the 2013 National Bertsolaris Championship and was runner-up in the 2009 edition; besides, he has always been finalist since 2005. He also won the championship corresponding to the provinces of Lapurdi, Baxenabarre and Zuberoa in the years 2008, 2010 and 2012, and the four championships of Navarre between 2000 and 2003.
First steps in bertsolarism
Lehen plaza

Beasainen, 1992an: Gipuzkoako Eskolarteko Txapelketako kanporaketan taldeka (Itsaso Arzallus eta Sustrai Colina taldekide zituela)