Nerea Elustondo
Personal details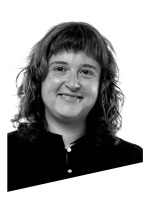 Name

Elustondo, Nerea

Complet name and surname

Elustondo Plazaola, Nerea

Birth

1981

Legazpi +

Legazpi < Goierri < Gipuzkoa < Basque Country
Bertsolarism
Main specialization

Bertsolaria

Specializations

Bertso irakaslea

Eragilea
Biographical details
Biography

Born in Legazpi, Gipuzkoa. 20 years old. She is finishing her studies in Industrial Engineering. Won the Xenpelar and Osinalde prizes in 2000. This is her first time participating in the National Championship.

First steps in bertsolarism
Lehen plaza

Legazpiko ikastolan, 1994ko abenduaren 23an. Gai-jartzaile, Juanjo Sagastibeltza. Bertsolariak: Andoni Otamendi, Asier Iriondo, Ekaitz Goikoetxea, Aritz Zeberio eta Nerea Elustondo.