Jone Uria Albizuri
Personal details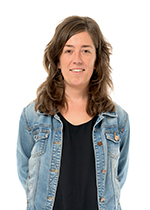 Name

Uria Albizuri, Jone

Birth

1990

Getxo +

Getxo < Uribe-Kosta < Bizkaia < Basque Country
Bertsolarism
Main specialization

Bertsolaria

Specializations
Biographical details
Biography

Holder of a Bachelor's Degree in Maths, she is working on her PhD at the University of the Basque Country. She is the spokesperson of Promotion Department, which is in charge of organizing the championships and performances promoted by the association Bertsozale Elkartea, as well as being a board member of the association.
She became a fan of bertsolaritza at home. At the age of 9 she took up bertsolaritza as an extracurricular activity at school and when she was 12, at the bertso-eskola (bertsolaritza workshops) of Algorta, ALBE.
In 2008, she participated for the first time in the championship of Bizkaia reaching the semifinals and since then she has sung in the finals of 2010, 2012, 2014 and 2016. She has also taken part in the National Bertsolaris Championship of 2009, 2013 and 2017.